MANAGEMENT POLICY
Growth Strategy
Creating the "World's No. 1 Entertainment Company" which competes on a global level
Our Group aims to become the "World's No. 1 Entertainment Company," and will promote four strategies to enable us to provide "joy and wonder" throughout the world.
Creation of new values
We want to be a company that provides new, unheard-of experiences that change people's lives. To this end, we are engaged in developing new titles which will enable us to provide new user experiences with a relentless focus on enjoyment. In addition, until recently we developed game titles primarily for release in the Japanese market. However, expanding games overseas after releasing them to the Japanese market takes time. It is also not easy to provide a service which will be accepted over a wide range of regions due to the differences between them in the types of games which are preferred. For this reason, when developing games, we will focus from the development stage not only on Japan but on releasing games globally, and develop them not only for smartphones but also for home consoles and PCs, thereby building a multi-device gaming platform.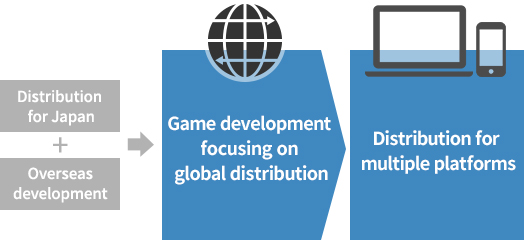 Pinch out to enlarge the diagram
Maximization of existing values
We deal with existing games for which we currently provide a service (such as Puzzle & Dragons) as brands, and do not simply release them as games, but have implemented a "one source, multi-use" approach. In this approach, one game asset is provided in a variety of forms, and so is expanded into a number of platforms such as anime, comics, character items and events. By providing our existing customers with an even higher level of service and satisfaction in this way, we aim to further expand our business by converting them into loyal lifetime customers, and thus ensure our continuous growth and stable profitability.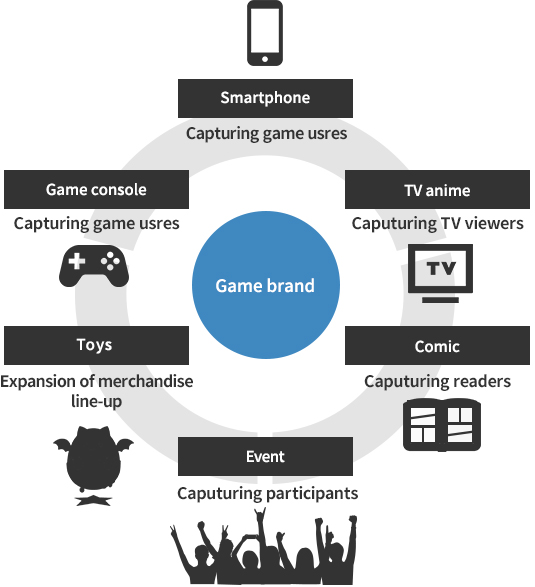 Pinch out to enlarge the diagram
Partner publishing
We have operated PC online games from the time the market first expanded in Japan, and thus have over 20 years of experience in operating online games. By leveraging this operating capability, we release high-quality titles developed by other companies and titles which we develop making use of other companies' IP (intellectual property) both in Japan and overseas, through which we aim to expand and diversify the services we provide, and to expand this area of our business into a new pillar of growth.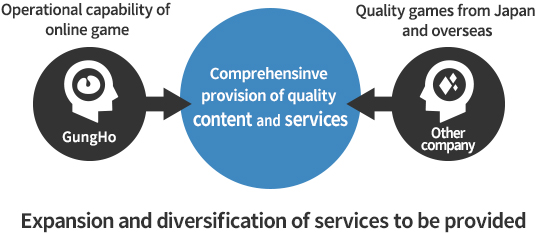 Pinch out to enlarge the diagram
New fields
New technologies are appearing, such as VR and AI which have recently been attracting attention, and various companies are introducing new gaming terminals, so that there are now more opportunities to provide users with new experiences. Around 2002, when broadband Internet began to become widespread, we began providing our online PC gaming service "Ragnarok Online," and so were able to contribute to the expansion of the Japanese PC online gaming market. In 2012 when smartphones became widely used we began our "Puzzle & Dragons" service, and so were able to drive the growth of the smartphone gaming market. Going forward we will perform continual research and development of new technologies so that we can continue providing previously-unknown user experiences, and lead in the creation of new markets.
Reserch and development of new fields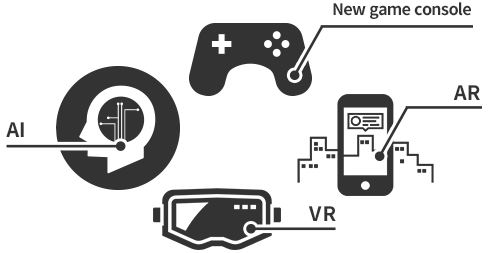 Pinch out to enlarge the diagram
Distribution of main titles and sales trend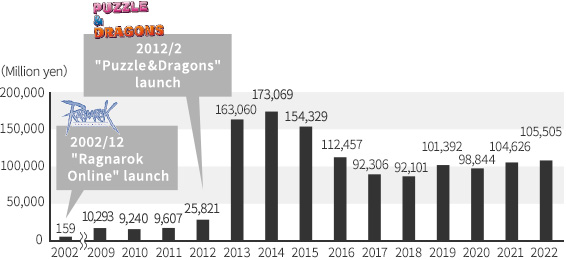 Pinch out to enlarge the diagram